Teacher Assessed Grades (TAG)
Below details the procedures used for Teacher Assessed Grades (TAG) for when examinations did not take place in the summer of 2021. This is a process that was specific to that year, and that we are not following again or in future years.
---
Following the announcement on 6th January 2021, that examinations will not place this summer, schools have been asked to create Teacher Assessed Grades (TAG) to award qualifications for students.
Our approach to Teacher Assessed Grades (TAG)
Heads of departments, with their teaching teams have reviewed what to teach and assess in the time remaining considering the following:
The powerful knowledge and disciplinary skills that are essential and required for next stages in education
Assessment of topics students have demonstrated secure understanding of only.
Groups of subject teachers have aligned their assessment records to identify robust data that can be used for determining TAG and future opportunities for new assessments. Each subject's assessment plans have been checked by SLT and mapped out into a whole school assessment plan, designed to support students in managing the demands of the next few weeks/months.
How and when will students be assessed
The Ofqual consultation has asked us to 'make a holistic judgement of each student's performance on a range of evidence.' At CGS this will include:
Student work produced in response to exam past questions/exam board prepared materials
Non-exam assessment (NEA) work (often referred to as coursework), even if this has not been fully completed.
Student work produced in school designed tasks that reflect the specification, for example:
o Internal tests taken by pupils
o Mock exams/assessments taken over the course of study
o Records of a students' capability and performance over the course of study in performance- based subjects such as music, drama and PE.
o Records of each student's progress and performance over the course of study.
Teachers will provide a wide range of opportunities for students to showcase what they have learned providing assessments with 'safety nets' to ensure that we reach the 'holistic judgement' Ofqual have required.
How grades will be generated from the range of assessment evidence
Not all assessments are of equal challenge therefore we have grouped assessments into four categories depending upon the number of exam style elements they contain: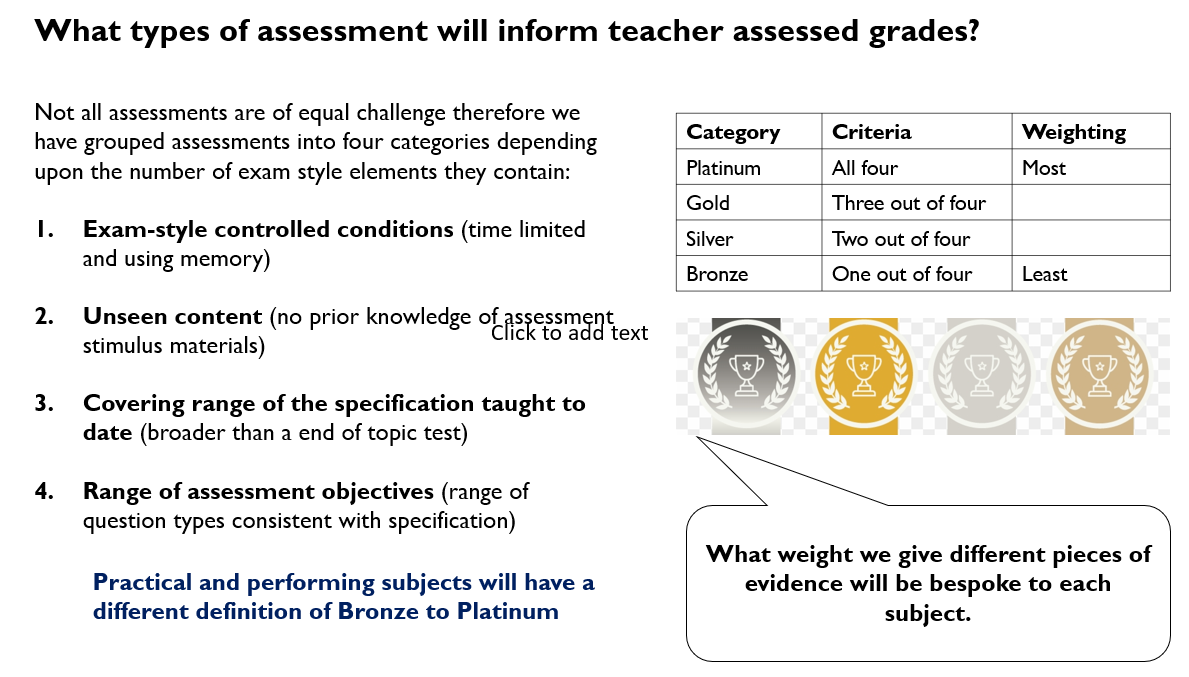 Fairness and equality
Every student who has been judged by the external examination assess assessor will be, wherever possible, provided with their access arrangements for all assessments included within the assessment plan.
Teachers will undertake a range of standardisation and moderation processes to ensure that every students' work is assessed fairly and without bias. This will include:
Using candidate numbers instead of names on assessments.
Thorough reviews of the marking of teachers to ensure a consistent standard.
Moderation of marking across and between schools and the Trust.
An analysis of cohort data against target grades.
In a small number of cases students experience trauma, illness and disadvantage during periods of examination. The examination boards apply extenuating circumstances of between 1-5%. We will gather information and seek guidance from the examination board to support students at CGS who experience these very rare and traumatic events during their assessment period.
Highlight key dates
w/c 22nd March assessment plans published to students and parents/carers
24th March year 11 and 13 student briefing lead by Caroline McClean
26th March whole school assessment plan shared with students and sent home to parents/carers
29th March – 28th May TAG assessments take place
30th March parent/carers webinar to explain the TAG process at CGS/V6 5.45-6pm – an email invitation will be sent at the end of the week
1st April remote parent/carers and tutor/mentor evening - parents/carers
7th June INSET day for professional discussions to agree TAG grades
10th August A Level and 12th August GCSE results day
Sources of support
The examination season is always a time of challenge for young people. We have planned our TAG with student wellbeing and mental health at the heart; primarily through providing many opportunities to show case and providing assessments with 'safety nets', but also by selecting carefully those aspects of the curriculum that we know students have been able to learn well.
Our Heads of House (HOH) and Sixth Form will educate students on managing 'exam stress.' Students will be supported to take control of their work and plan effectively for each assessment. Tutors/mentors will meet with parents/carers to provide information on how parents/carers can support their child and provide ongoing support to students. Our HOH, AHoH (Assistant Heads of House) and wellbeing lead are available to provide further 1:1 support as well as signposting to external support agencies.
Our year 11 and 13 students have risen to every challenge this year. Our teachers have provided outstanding lockdown learning. We are very well placed to provide a full range of assessment opportunities to allow students to showcase their learning with the security of the safety net of prior assessment data where required. We recognise how challenging these next few months will be for our students and we will guide them carefully through these final few crucial months.
student request form for centre review & appeals
Extenuating Circumstances JCQ Guidance
Extenuating Circumstances Google Form
CGS Addendum to Trust Academic Honesty Policy
Curriculum, Subjects & Assessment