Results
Montpelier High School is rated amongst the top 20% of secondary schools nationally for attainment and progress, which means that students of all prior attainment, whatever their starting point, make outstanding progress with us. Our school is also in the top 20% nationally for the full range of subjects: English, maths, science, EBacc, creative, vocational and practical subjects.
We are also the Teaching School Hub (TSH) for Bristol, North Somerset and Somerset, appointed to this well-respected position in 2021 by the Department for Education. A TSH is a group of schools or education experts working in partnership with each other to provide high-quality professional development to teachers and leaders at all stages of their career, as well as helping trainee teachers as they enter the workforce.
We see collaboration as an important element of achieving best practice and continuously striving to improve, and the TSH status provides many opportunities for us to collaborate effectively with other educational institutions across the country. All of this impacts positively on our student body and the excellent results that they continue to achieve.
Please find our GCSE results below.
To view our latest A-level exam results, please visit our post-16 V6 website.
2022 Results News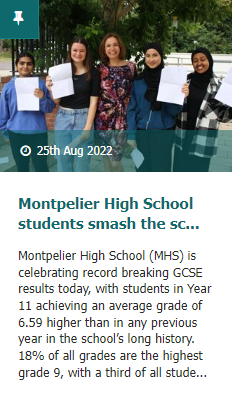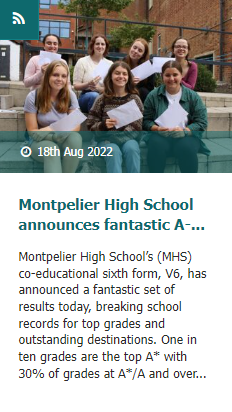 2019 Results News