Welcome from the Headteacher
Our Mission: to inspire all students to become confident, ethical and compelling individuals with the aspiration and qualities to shape a better future for all.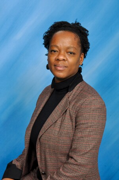 Welcome to Montpelier High School, a community proud of its identity, diversity and shared achievement.
As Headteacher, I am privileged to lead a highly talented, dedicated group of teachers and support staff who share my determination to provide a unique and inspiring learning environment for every member of our school community. We encourage our students to celebrate their identity, develop the skills and confidence to champion their beliefs and pursue their ambitions, and to develop the strength of character to advocate for others.
Montpelier High School is a non-selective, high-achieving girls' school that is an incredible microcosm of our city. We welcome students from all backgrounds and belief systems, prior attainment and learning needs. We celebrate our diversity and our students benefit enormously from the wide range of perspectives in every classroom.
We uphold the highest standards and expectations for every student, coupled with exactly the right level of support to enable each individual to thrive academically, socially and emotionally.
Every student and member of staff who comes here is united by a clear ambition to achieve the best they can for themselves, each other and the wider community. Crucial to our success is the unwavering support of our parents and carers who actively participate in our school community and help to maintain our values and standards.
Montpelier High School is rated by the Department for Education (DfE) in the highest bracket of secondary schools nationally for attainment and progress. This means that students of all prior attainment, whatever their starting point, make outstanding progress with us. Our school is also ranked by the DfE in the top bracket nationally for the full range of subjects: English, maths, science, EBacc, creative, vocational and practical subjects.
Referring to 'prior attainment' instead of 'ability' goes to the heart of our success as a learning community. We will never define a student by what they have achieved in the past (their prior attainment) but instead by want they want to achieve in the future. We believe that with a strong work ethic and the right challenge and support, all students can make outstanding progress and achieve their full potential.
Examination results are important for students' futures but we are certainly not an exam factory. Alongside our academic success, we strive to develop the whole person and that's why the enrichment element of our curriculum is not an optional extra but is built into the fabric of the timetable. From astronomy to forensics; debate and law societies; choirs and the arts; mental health and wellbeing; recreational and competitive sports – our Enrichment Programme seeks to empower students, helping them to develop their self-confidence and to understand the many ways in which they can positively contribute to a better future for all.
Montpelier High School students are actively shaping the future. They are confident, compelling and ethical individuals who are part of an inclusive community that respects diversity and champions progress and change.
After graduating in Year 11, Montpelier High School students have the option to study for their A-levels in our co-located post-16 provision 'V6'. With their own independent building, the mixed students in our sixth form experience the perfect blend of academic excellence and young adult freedom, as they prepare for life in further education or the world of work.
If you'd like to know more about our wonderful school, you will find the website to be a rich source of information; and if you're thinking about joining our school and you'd like to participate in one of our open events, please get in touch.
Sincerely,
Vanetta Spence
Headteacher