Wellbeing & Pastoral Support
At Montpelier High School we believe that students who feel safe and supported are more likely to thrive and reach their potential.
Our staff community is dedicated to the safeguarding and welfare of every student regardless of their circumstances. Staff at MHS work together to ensure the best outcomes for our students - part of this is being able to identify the early signs of any issues our students may be facing in school, at home or in the wider community.
Who should you talk to if you have a wellbeing or pastoral concern?
Students have contact with their tutors every day and are encouraged to speak to their tutor when they feel they would like support. If required the student can be signposted to the appropriate member of the Head of Year or Safeguarding Team for pastoral support allowing them to remove any academic or personal barriers they may be facing.
What do the Head of Year/Safeguarding Team do?
We regularly work in partnership with teachers, parents/carers and other specialist agencies to get the best outcomes for everyone.
Our team can provide information, advice and guidance to both students and parents/carers in many areas including:
Behaviour support/management

Emotional help (including anger management and counselling)

Building relationships with peers

Academic support

Restorative approaches
Career guidance

Support with attendance and punctuality

Links and partnerships with external organisations for those more challenging problems
---
Contacting the team
Our Pastoral Team consists of:
Tutors
Heads of Year
Safeguarding and Family Support
First point of contact for any questions is your childs tutor. Below is a list of Tutors and Heads of Year for your information. You can contact your child's tutor or head of year via email using this format; firstname.surname@montpschool.org
Year 13

Head of Year: Sophie Blything

V6.7
V6.8
V6.9
V6.10
V6.11
V6.12
Amy Sims
Manuella Moisan
Alice Halpin and Rachel Lee
Kat Rolfe
Lydia Fan
Rachel Lee
Year 12

Head of Year: Sophie Hargreaves

V6.1
V6.2
V6.3
V6.4
V6.5
V6.6
Luke Bray
Esther Croom
Annabelle Lee
Steph Ward
Joe Gould
Sarah Wright
Year 11

Head of Year: Nicole Nayyar

11.1
11.2
11.3
11.4
11.5
11.6
Samantha McGarry
Tom Frew
Katie Adams -Foot
Frankie MacDonald
Marianne McMahon
Lee Brittain
Year 10

Head of Year: Mark Wright

10.1
10.2
10.3
10.4
10.5
Amelia Salt
Amy Mayne
Jaswant Singh Gangotra
Natalie Allen
Jess Bray
Year 9

Head of Year: Claire Saddiq

9.1
9.2
9.3
9.4
9.5
Ekta Shetty
Miguel Martin
Mascia Amici
John Ippiotis
Salma Saddique
Year 8

Head of Year: Alice Marlow Stevens

8.1
8.2
8.3
8.4
8.5
8.6
Maddie Denyer
Rebecca Rowe
Sophie Sacker
Sarah Tadros
Rosalind Morgan-Jones/Cintia Silva
Kuba Williams
Year 7

Head of Year: Habon Ibrahim

7.1
7.2
7.3
7.4
7.5
7.6
Hannah Madison
Peter Hauselman
Victoria Smart
Zara Kindred Christine Keen
Eleanor Glen
Leonie Wade
---
Wellbeing Websites & Contact Numbers
Our MHS community provides support throughout the year, not just during term time.
We have put together a list of useful contacts for both during term time and in the holidays.
Support during term time
(click here to download a pdf)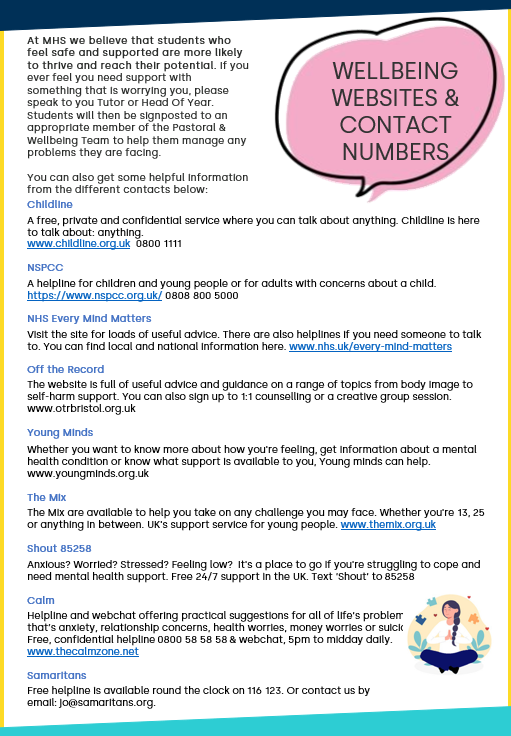 Support when school is closed
(click here to download a pdf)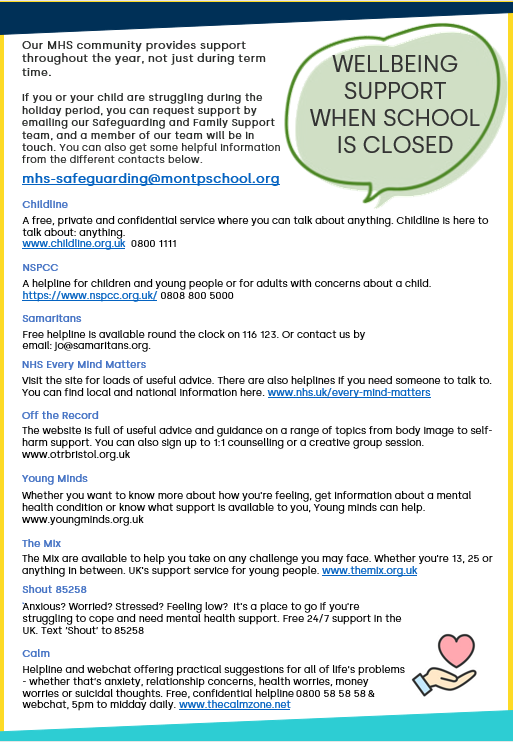 Whisper
Whisper is an anonymous reporting service that allows members of our school community to tell us about any issues they have and reach out for support and guidance. It enables us to ensure that our students are heard and know that they have someone who can help them.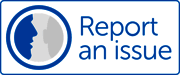 To report a concern, you will need to:
Type or not type in your name. This can remain anonymous.
Click on the report type
Type in your message, with names if needed
Enter in your school email address if you want an anonymous chat
You can also text 07860021323, writing MHS3 and the concern. This will not reveal your number.
Report Harmful Content

If you've experienced or witnessed harm online Report Harmful Content can help.
Report Harmful Content can help you to report harmful content online by providing up to date information on community standards and direct links to the correct reporting facilities across multiple platforms.
FURTHER HELPFUL INFORMATION
EXAM STRESS
For help and advice in supporting your child with exam stress please click on the below link:
Supporting Your Child With Exam Stress
SAFEGUARDING CONCERNS
Information about our Safeguarding contacts, policies and procedures can be found here:
SEND & INCLUSION INFORMATION