SEND & Inclusion
SEND POLICY
Venturers Trust & MHS are committed to providing an appropriate and high quality education to all of the children in our community. Please see the below SEND polcy for further infomation on how we support our SEND students.
LEARNING SUPPORT
The Learning Support Department aims to give support to a wide range of pupils. The aim is to help students to achieve their full potential and prepare them for life after school. We share the overall aims of the school for all students to be ethical and compelling individuals who can advocate for themselves and others and contribute positively to their communities.
HOW DO WE DO THIS?
The SENCO liaises with parents, primary schools and outside agencies to help with transition from primary to secondary school. She is available to students and parents to discuss need and support. Students with needs will have a summary available to all staff via Provision Map which describes their strengths and weaknesses, suggests strategies and lists support available.
Some students will have in class support; others may participate in a range of interventions led by teachers and teaching assistants who are extremely well qualified. We have both an autism specialist TA and an SEMH specialist TA within the department. Interventions are reviewed regularly to ensure maximum impact. Students with special educational needs have access to the whole curriculum and are fully integrated into the life of the school and encouraged to participate equally in extra-curricular and community activities. In Year 7 there is a small Challenge Curriculum Group which offers extra support for pupils in academic subjects. At KS4 there is some flexibility in the range of options.
INTERVENTIONS
These take many forms and can include support for individual academic subjects, small group interventions such as social skills or small group PSHE for students who need bespoke support. There is also specific tailored support for students who are looked after or previously looked after.
Students can also use the Learning Support rooms as a supervised safe space at break and lunchtimes where necessary, and we can also provide specialised equipment for students, such as laptops, writing slopes or overlays.
For numeracy interventions we use the programmes SumDog and Hegarty Maths, and for literacy support we use the NGRT and Lexia programmes.
For students with emotional and behavioural needs we use the Thrive approach, and some students receive additional Thrive interventions. These are delivered by trained Thrive practitioners.
By the time students reach Key Stage 4 it is hoped that most will have made significant progress and will no longer need individual support. A few pupils will continue to receive in-class support and some may not take the full range of GCSE options in favour of additional support. This will apply only to those pupils with a severe and documented need. Any such decision will be made in consultation with senior staff, parents and pupils. Examination access will be applied for pupils who meet the criteria stated by the JCQ examining boards.
At KS5 it is rare for a student to need additional support but where the need is long term and supported by external professional documentation it will be given.
PARENTAL INVOLVEMENT
Parents are encouraged to maintain contact with the SENCO via email. Pupils with an EHCP will also have a key worker TA who meets with them regularly to review progress and support their wellbeing, and they will liaise with parents of their key students. Parents' knowledge of their children is invaluable and their input welcome. Pupils with Education, Health and Care Plans or Bristol SEND support plans will have these formally reviewed once a year. These are held on or close to the date of issue. Parents and pupils are invited to attend along with other outside agencies as necessary. Other pupils on the SEND register will have a learning plan available to staff on Provision Map and you are invited to contribute to this via parents' evenings or additional meetings with the SENCO if necessary.
ADMISSIONS
Pupils identified as having special educational needs and disabilities will be admitted to the School on the same basis as pupils who have not been so identified. They will be treated as fairly as all other applicants for admission.
In accordance with the Education Act 1996 and the Equalities Act 2010 the School will accept pupils with an Education, Health and Care Plan, unless that acceptance would be incompatible with the efficient education of other pupils in the School or the School feels unable to meet the pupil's needs.
ROLES AND RESPONSIBILITIES
SENDCO – Helen Clark; Email: mhs-senco@montpschool.org
The SENDCO is responsible for ensuring provision is made for the inclusion of students with SEND and quality assuring this provision to ensure impact. Also responsible for the drafting of statements and bids for top up funding.
SEND Governor - Debbie England
A member of the Governing body, appointed as SEND governor to regularly review SEND, although the Governing body as a whole is responsible for making provision for students with special educational needs and/or disabilities.
Designated Teacher (Children in Care) - Nicola Langham; Email: nicola.langham@montpschool.org
Information on where the Local Authority's Local Offer can be found is detailed here: https://www.bristol.gov.uk/web/bristol-local-offer/home
SEND REPORT
For our 2022 information report on how we implement the school's policy for students with SEND please click below
Whisper
Whisper is an anonymous reporting service that allows members of our school community to tell us about any issues they have and reach out for support and guidance. It enables us to ensure that our students are heard and know that they have someone who can help them.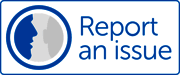 To report a concern, you will need to:
Type or not type in your name. This can remain anonymous.
Click on the report type
Type in your message, with names if needed
Enter in your school email address if you want an anonymous chat
You can also text 07860021323, writing MHS3 and the concern. This will not reveal your number.
Useful links
https://www.supportiveparents.org.uk/
A voluntary service where you can find information about SEND and advice and support for parents, children and young people.
Bristol's Early Intervention SEND Local Offer (click image to enlarge - opens pdf)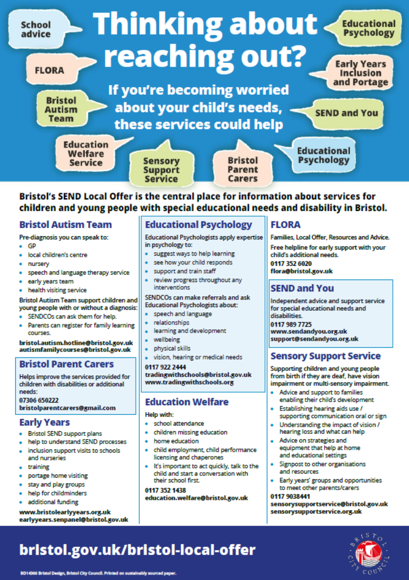 Equalities and Additional Intervention
We define equality, diversity and Inclusion in the following way:
Equality- ensuring that everyone has the same opportunity to succeed and achieve their aspirations.
Diversity- ensuring that we celebrate difference rather than tolerate it. We do this by creating an environment where everyone feels valued and that they belong.
Inclusion- ensuring that everyone in our community can take a full part in the life of our setting. We regularly review the curriculum we offer, our information provision, our environment and all of our policies and practices to ensure that the barriers to participation are removed and that reasonable adjustments are made as well as arrangements for intervention and support.
The Venturers Trust Accessibility Plan sets out how we will increase the extent to which disabled pupils participate in the school's curriculum.
For further information on our strategies for equalities and accessibility please visit the link below.
Equalities and Additional Intervention
STUDENTS WITH HEALTH NEEDS WHO CANNOT ATTEND SCHOOL
For further information regarding how we support students with health needs to receive the right level of support to enable them to maintain links with their education please click below.
Students With Health Needs Who Cannot Attend School
EXAM STRESS
For help and advice in supporting your child with exam stress please click on the below link:
Supporting Your Child With Exam Stress
Complaints Procedures
In the first instance, we would encourage parents to talk to the form tutor, Head of Year or SENDCo to see if the issue can be resolved. However, MHS does have a formal complaint procedure. For information of the school's arrangements for handling complaints from parents of children with special educational needs (SEN) and the support the school provides, please refer to both the SEND Policy and Complaints Policy & Procedures. If you require a paper copy please contact the school office.