House System
Our Houses are named after iconic female figures in history:
Austen, Curie, Frank, Johnson and Parks.
Each House has its own colour, flag and badge, thereby each student is instantly recognisable as belonging to a particular House.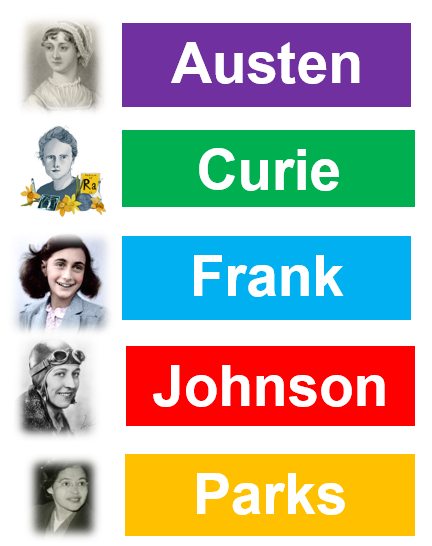 The House system also provides opportunities for students to achieve success through participation in a wide variety of competitions, as well as earning House Points for academic success or positive contributions to the school.
Termly academic and sports competitions are highlights in the school calendar, especially the summer Sports Day. Other competitions planned this year are based around singing, dancing, cooking and design.
The House system is incredibly important to Montpelier High School, as it enriches the lives of students, emphasising our key school values of curiosity, responsibility, resilience, and respect.
Belonging to a House helps our students feel part of a smaller community within the larger whole school community, a team in which students of all ages can work together to achieve common goals. The system of House leadership is a key part of this, with students of all ages being given responsibility for organising big events.
The House system was relaunched in September 2023. Each of our Heads of House are sixth-form students:
Austen – Ruby Russell-Revelle
Curie – Baraha Kaimouz
Frank – Isa Sowe
Johnson – Ashton Zhang
Parks – Anna Munday