Friends of Montpelier High School
The Friends of Montpelier High School plays an important role in supporting and strengthening our community of students, parents and teachers.
The Friends does this by:
bringing together parents and teachers to discuss how best they can support the education for students of Montpelier High School and V6 Bristol
organising fundraising activities for the school
supporting school events such as musical performances and open evenings
The impact of our work provides funding for equipment or enrichment opportunities to our students. It also allows us to connect with other families, school and Venturers Trust staff and the wider community.
Please navigate to the footer of this page where you will find meeting minutes for the Friends of MHS.
---
Latest News
Newsletter September 2023
Please click here to download our latest newsletter:
FoMHS Newsletter - September 2023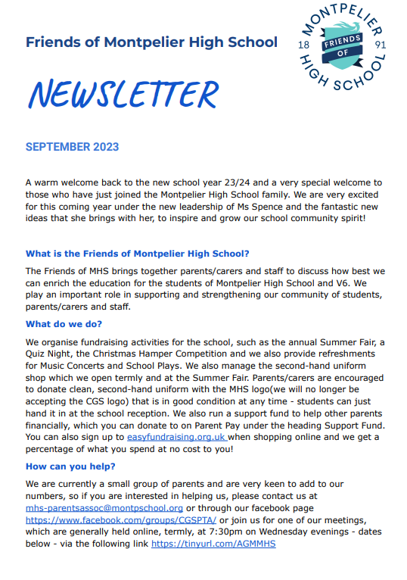 Summer Fair 2023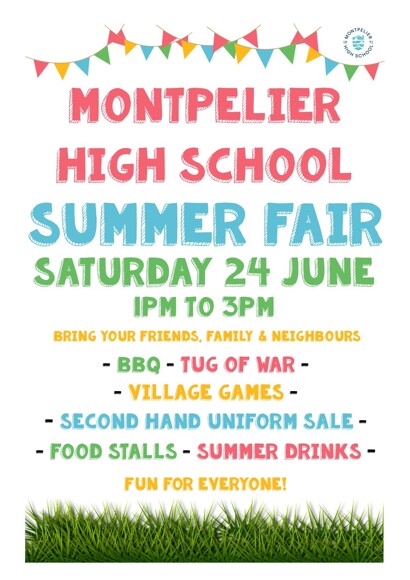 The Friends of Montpelier High School will be helping the students and staff to run their Summer Fair on Saturday 24th June. Doors open from 1pm until 3pm but we will need help with setting up from 12pm and clearing up until afterwards.
We are also looking for donations for the raffle stall: these could be physical donations or experiences and we would gratefully publicise any business/company offering this. If you could help or have a donation available for the raffle, please enter your email address and some information below.
Alternatively, donations for the raffle can be dropped off directly to school at the main reception on Cheltenham Road. Thank you, Friends of Montpelier High School
----
The Friends of Montpelier High are creating a recipe book full of Montpelier High community favourites. Please send us your quirky family recipe by filling in the form below by the end of February and see your recipes in print! Please click on the link below: https://forms.office.com/r/5HXVhANLgB
---
What do we do?
There are currently 10 volunteer committee members, who meet once per term to organise a wide range of events to raise funds, as well as soliciting sponsorship and donations from corporations and foundations.
All money raised enriches and supplements the education offering for our students and fills funding gaps. Heads of department submit funding requests which we then manage, direct and control.
We also have an informal community group of parents on Facebook, who like to attend Friends of MHS events and occasionally help out. If you'd like to support any of our activities or you're thinking of joining the committee, this is a great way to get involved.
We organise the annual Summer Fair and Quiz Night. We also provide refreshments for Musicals, Concerts, Art Exhibitions, School Plays and Sports Day.
The Friends also manage an informal second-hand uniform shop. Parents are encouraged to donate clean, second-hand uniform that is in good condition at any time- your child can just hand it in at the school office.
If you would like to request uniform, you can contact us on Facebook with any requests, the size needed and name of the student who will be collecting it. There is also an opportunity to purchase second-hand uniform at our annual Summer Fair.
---
PLEASE JOIN US!
Please follow us and contact us on Facebook (https://www.facebook.com/groups/CGSPTA/) with your ideas and feedback or to say 'hello'.
You can contact us by email - mhs-parentsassoc@montpschool.org
Please support us on Easyfundraising!
---
Fundraising
You, your family and friends can start to raise funds for the Friends immediately by using this easy and effortless fundraising scheme:

Register for free at easyfundraising.org.uk as a supporter and nominate Montpelier High School as your cause from the list. All retailers listed will give a percentage of what you spend to the Friends of Montpelier High School – with no extra cost to you!
Friends of MHS Meeting Minutes 2022-23
Friends of MHS Meeting Minutes 2021-22
Friends of MHS Meeting Minutes 2023/24
Please find the minutes from 2023-24 Friends of MHS Meetings below: