Belonging, Behaviour & Engagement
Good behaviour is essential in creating our happy and effective school. Behaviour is something scrutinised in every aspect of achieving a 'good/ outstanding' school and we at Montpelier High School feel strongly that our behaviour management systems will provide a positive framework for our children to work within successfully.
Our Policy
Belonging is that sense of being somewhere where you can be confident that you fit in and feel safe in your identity. What happens in any school is down to the people in and around it: the students, their families, the staff - and the leaders. If you feel you belong, you feel safe, are able to participate and engage and therefor achieve.
Venturers Trust & Montpelier High School treat everyone with unconditional respect and have high expectations for both adults' and students' learning and social behaviours. We believe all behaviour is communication, in response to a feeling, experience or stimulus. We endeavour to provide calm, safe and supportive environments which children and young people want to attend and where they can learn and thrive.
Everything we do, all our words, actions, postures, contribute to behaviour and our sense of belonging. We are attachment aware and pride themselves on building excellent relationships and providing high levels of care.
To read the full details of our policy for Belonging, Behaviour and Engagement, please click below (opens new window).
Belonging, Behaviour and Engagement Policy
Bullying Concerns Flowchart
We have a flowchart to assist students with what to do if they experience a bullying or friendship problem (please click on the image below to enlarge)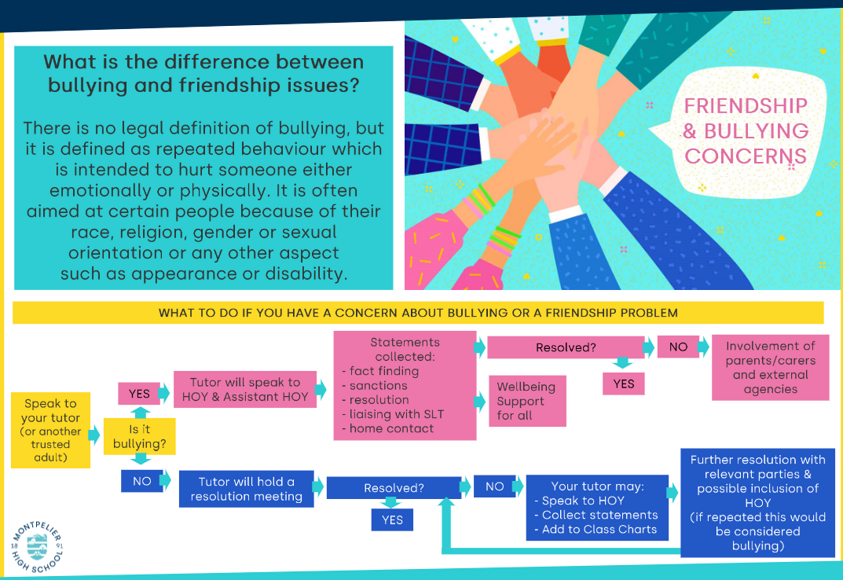 Anti Bullying Strategy
Our Anti Bullying Strategy sets out a range of strategies and interventions which work to prevent bullying occurring in the first place, and, when incidents do take place ensure that incidents are handled in an appropriate, effective, proportionate and consistent manner.
MHS Anti Bullying Strategy (pdf opens in new window)
Whisper
Whisper is an anonymous reporting service that allows members of our school community to tell us about any issues they have and reach out for support and guidance. It enables us to ensure that our students are heard and know that they have someone who can help them.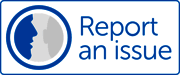 To report a concern, you will need to:
Type or not type in your name. This can remain anonymous.
Click on the report type
Type in your message, with names if needed
Enter in your school email address if you want an anonymous chat
You can also text 07860021323, writing MHS3 and the concern. This will not reveal your number.
Class Charts
Montpelier High School uses an app called Class Charts, which enables parents/carers the ability to see the number of behaviour points, house points, and details of any detentions a student has accumulated. We hope to eventually use this system to also record homework.
Parents/carers will be sent by email an invitation code to log on to Class Charts.
Belonging, Behaviour & Engagement