Read Our

Latest News
CGS - Fantastic A Level Results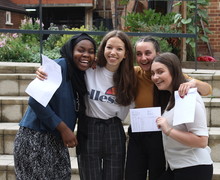 Colston's Girls' School are celebrating a fantastic set of A Level results with many exceptional individual performances.
CGS has improved on our previous best performance in terms of the number of students achieving perfect A/A* grades. This year over 20% of all results are A or A*. Taking up places at Oxford in September are Danlei Zhu A*A A A and A* EPQ (Mathematics and Computer Science) and Chantelle Richter A*A*A and A* EPQ (Law with French Law).
Head student Zainab Adelopo A*A*A will read Law with Hispanic Law at UCL, Naomi Richter A*A*A and A in EPQ, Olivia Wright A*A*A will read Mathematics at Nottingham; Carla Hennell A*AA will read Psychology at Bristol, Isabelle Jinadu A*AA Combined Honours in Social Sciences at Durham, Kristina Brocklebank AAA will read Physics with Astronomy at Southampton and Chelsea Kent AAA will read Law at Exeter. We are delighted that Shumyia Janib-Ali and Holly Kaur will both read Medicine at Bristol University.
Head of Sixth Form Kerry McCullagh said 'I am so delighted with this outstanding set of results. The hard work and talent of the students with the support of our fantastic teachers has led to wonderful grades. Whilst I am massively impressed with the exceptional individual achievements of those with perfect A/A*s, I am just as proud of those students who made massive progress in the Sixth Form, for example Amara Jimenez Canizares who smashed her target grades with ABB and a B in EPQ and will read Psychology with Biology at Newcastle University.'
Principal John Whitehead added "I am so proud of these wonderful compelling individuals who have contributed so much to the development of the school in recent years and who will, I have no doubt, help to transform their communities for the better in future years. Congratulations to all our students and best wishes for the future".