Read Our

Latest News
Montpelier High School students smash the school's record for top grades
Montpelier High School (MHS) is celebrating record breaking GCSE results today, with students in Year 11 achieving an average grade of 6.59 higher than in any previous year in the school's long history. 18% of all grades are the highest grade 9, with a third of all students who studied Biology, French and Music also gaining a grade 9. In addition, half of all students entered for the challenging Further Maths GCSE have gained a grade 9.
In total, 94% of grades are 4 or above (a standard pass) and 89% at grade 5 (a strong pass). The average grade for all students in English is grade 7.
In Biology, Chemistry, Physics and Computer Science students from disadvantaged backgrounds made more progress than their peers; while students with special educational needs made more progress than their peers in History and Engineering.
Amongst the students who achieved outstanding individual success are Lauren Sockett, who achieved a phenomenal ten grade 9s; Phoebe Aubrey, Hannah Connor, Molly Fenwick-Moore and Isabel Mathew who all achieved an outstanding nine grade 9s.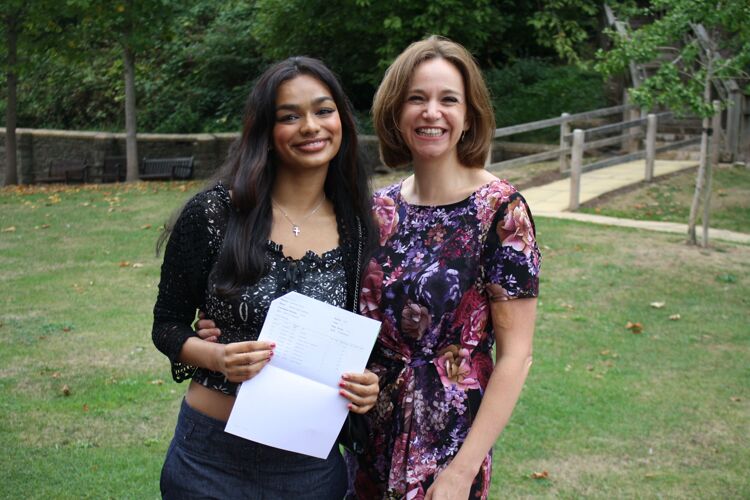 Isabel said:
I can't believe it, these results are even better than I had been expecting. My mum and dad came with me to school this morning and they haven't stopped smiling since! I want to thank all my teachers for their amazing support.
Isabel's mum Mrs Mathew said:
MHS is such a good school, the teachers have been so supportive. We want to say thank you so much for helping Isabel to achieve results that will hopefully lead to her one day becoming a dentist, which is her ambition.
Other students with an amazing collection of eight grade 9s are Anna Munday with eight 9s and two 8s; Izabella Steele with eight 9s and two 8s; Malou Bartlett with eight 9s and one 8; and Aliya Omar with eight 9s, one 8 and one 7.
Izabella said:
I'm very happy with my results. Thank you to all my teachers for supporting me, they've honestly been amazing. Being a part of this school has really shaped me as a person and on top of that I've achieved great GCSE grades!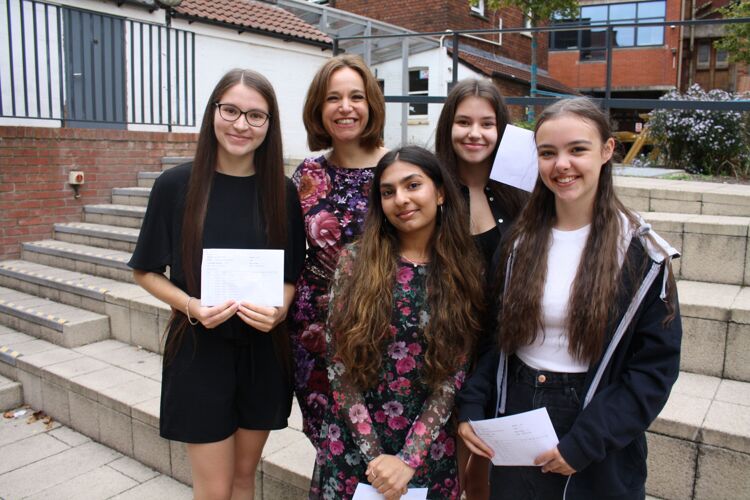 Twin sister Nicole Steele, who achieved two 9s, three 8s and four 7s said:
I feel very pleased with my results and I'm proud to be a part of such a diverse school with teachers who guide you through your whole school life.
Proud mum Mrs Steele said:
We were the first family to arrive at school this morning, I joked with the teachers that we'd camped out overnight! I'm so proud of my girls, they've worked so hard and thoroughly deserve these amazing grades. I want to emphasise how much the teachers and leaders at MHS have supported the girls. They're always there for the students and the standard of teaching is outstanding. My girls love learning and much of that is down to the positive experience they've had at MHS. I'm really happy that both Izabella and Nicole will be staying on to study A-levels at V6.
Gaining seven 9s are Bella Taylor with seven 9s and three 8s; and Yue Zhang with seven 9s, one 8 and one 7. Gaining six grade 9s are Jenny Allen with six 9s, three 8s and one 7; Arij Sial with six 9s, two 8s and one 7; and Esmee Clark with six 9s, two 8s and one 6.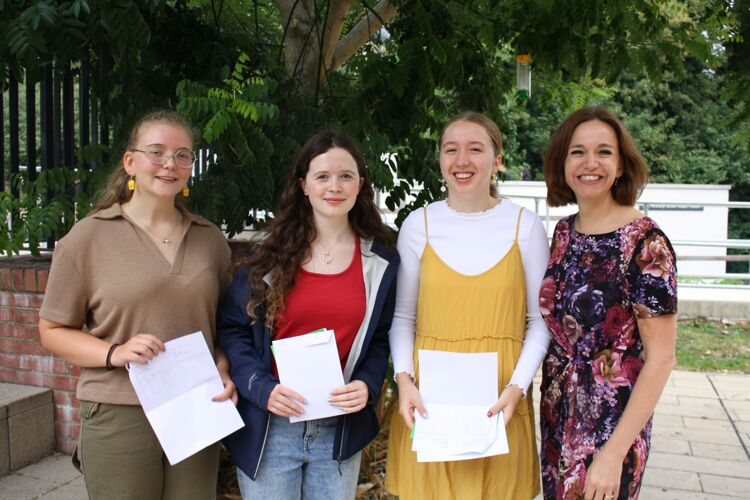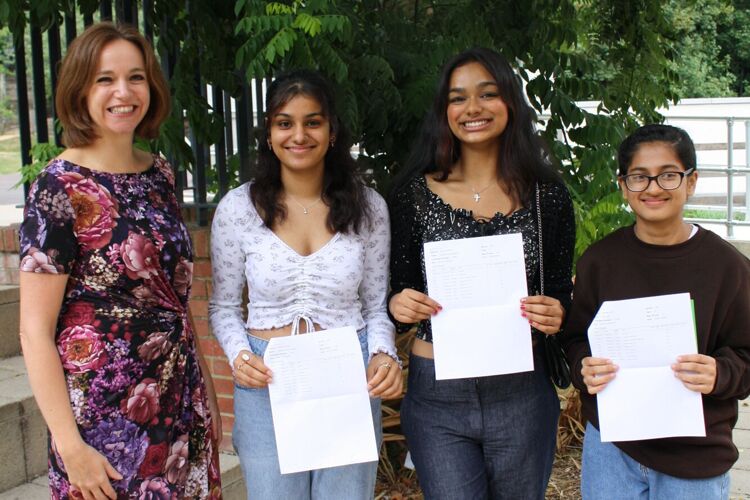 Gaining five grade 9s are Rahimah Aideed with five 9s, three 8s and two 7s; and Anna Vaughan with five 9s and four 8s.
Students who smashed their target grades, gaining on average three grades higher than their targets across all subjects are Simerjit Potiwal and Poppy Rickwood who both achieved an average grade 8; and Faatima Bashir who achieved an average grade 7.
Simerjit said:
I worked really hard to achieve these grades and I'm very proud of the progress that I've made.
This cohort of Year 11 students were significantly impacted by Covid, with most of their Year 10 studies taking place remotely during lockdown. Students experienced the impact of Covid in different ways, for example Megan Hart-Jones suffered from long Covid throughout the exam period, leaving her feeling fatigued and struggling to revise. None-the-less, Megan completed all her exams and gained fantastic results including three 9s and five 8s.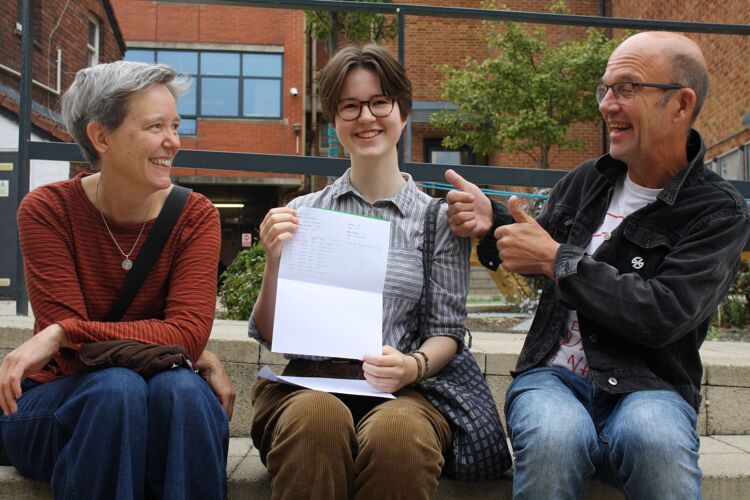 In addition, every Year 11 student at MHS with an Education Health and Care Plan has passed all their examinations, meaning that they will now move on to Post-16 education, firmly on track to achieve their ambitious goals.
MHS is a non-selective girls' school with a fully comprehensive, diverse intake of students. One in four of this Year 11 cohort qualified for Pupil Premium (additional funding for disadvantaged students); one in five students had a special educational need; 44% of students come from a minority ethnic group; and 15% speak English as an additional language.
Kerry McCullagh, Principal of MHS, said:
There is something very special about MHS students. They throw their heart and soul into everything they do, whether it's championing a global cause, powering through a pandemic or focusing on their studies, this group of young people is unstoppable. They have all absolutely smashed it today, with results they should feel extremely proud of. I cannot wait to see what they do next!
MHS and V6 are part of Venturers Trust which is sponsored by the Society of Merchant Venturers and the University of Bristol. As the sponsor, the University of Bristol provides a guaranteed reduced offer (a grade reduction of up to two grades below the standard entry requirements) or interview, depending on the course chosen, for all V6 students with the potential to study there; and the Society of Merchant Venturers provides an extensive range of work experience programmes for students, as well as delivering career talks, mock interviews and mentoring.
Montpelier High School is rated amongst the top 20% of secondary schools nationally for attainment and progress, which means that students of all prior attainment, whatever their starting point, make outstanding progress at MHS. The school is also in the top 20% nationally for the full range of subjects: English, maths, science, EBacc, creative, vocational and practical subjects.
MHS is also the Teaching School Hub (TSH) for Bristol, North Somerset and Somerset, appointed to this well-respected position in 2021 by the Department for Education. A TSH is a group of schools or education experts working in partnership with each other to provide high-quality professional development to teachers and leaders at all stages of their career, as well as helping trainee teachers as they enter the workforce.
MHS sees collaboration as an important element of achieving best practice and continuously striving to improve. The TSH status provides many opportunities for MHS to collaborate effectively with other educational institutions across the country. All of this impacts positively on the student body and the excellent results that they continue to achieve.