Safeguarding, Online Safety & Support Services
Our Family Support Worker can offer guidance and support about behaviour management, emotional health and wellbeing, finance and debt management and housing.
Our Wellbeing Officer works with our students to support them emotionally. They may work with individuals or with a small group of students on issues including anxiety, confidence, self esteem.
Key school contacts can be found by clicking here.
For further advice and guidance on how you can help safeguard and support a young person, please visit the Keeping Bristol Safe Partnership website that has a wealth of advice on matters that affect young people.
For wellbeing advice for students please click here
---
Useful Websites
National Bullying Helpline - A coalition of organisations and individuals, working together to achieve our vision to: stop bullying and create safer environments in which children and young people can live, grow, play and learn.
Childline - Get information and advice on a whole range of issues affecting children and young people.
Childnet - Top tips, competitions, blogs and advice to help you to use the internet safely, responsibly and positively.
CBBC Stay Safe - Tips and tricks you'll need to stay safe online, beat the cyber-bullies and become a super-surfer.
Digital Literacy & Citizenship - free materials designed to empower students to think critically, behave safely, and participate responsibility in the digital world.
Snapchat Support - Tips and resources to help you stay safe while using Snapchat, including how to report a safety concern.
UK Safer Internet Centre - Games, quizzes, films and advice to help you get the most out of the internet while staying safe online.
---
STAYING SAFE ONLINE
Using the internet and mobile devices is central to many of our students' lives. We recognise the enormous value these technologies have in helping our students learn and function effectively in the 21st Century.
With these opportunities comes the need to protect our students from the associated risks. We take e-safety very seriously. In addition to taking steps such as web filtering, we educate our students about the risks they face on-line and how they can protect themselves.
All students are required to read and sign our IT Acceptable Use Policy, which describes the responsibilities students have when using IT.
There are a number of useful websites that contain easily accessible information and guidance about e-Safety. (Additional websites are available via our Need Some Help page).
Internet Matters
Internet Matters is a not-for-profit organisation offering parents further resources to help them keep their children safer online; while supporting broadband parental controls.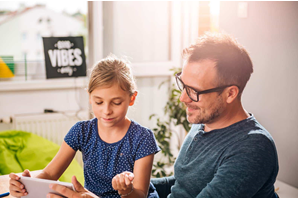 Offering tips and advice - From age-specific online safety checklists to guides on how to set parental controls on a range of devices, you'll find a host of practical tips to help children get the most out of their digital world.
Childnet
Childnet works directly with children and young people from the ages of 3-18, as well as parents, carers, teachers and professionals, finding out about their real experiences online, and the positive things they are doing.
ThinkUKnow
Thinkuknow is a site for students and parents/carers explaining internet dangers and how to stay in control.
CEOP
Are you worried about online sexual abuse or the way someone has been communicating with you online? Send a report to one of CEOP's Child Protection Advisors.
---
Online Safety Updates
Looking for advice about a particular app or website?
Please see our Online Safety Updates page for information about what to do to stay safe when using apps, games and websites.
---
Online Safety at Home
Sometimes use of the internet throws up unforeseen problems which you as a parent may need to address with your child. Understandably, you may initially feel uneasy with how best to resolve issues such as cyberbullying, viewing and/or sharing inappropriate content, sexting, or the amount of time your child spends online.
For help with setting parental controls, online gaming, mobile phones and the internet and any other concern around online safety in the home please visit Internet Matters for advice and video guides.
---
Online Sexual Harrassment - Things I Wish My Parents Had Known
Published by Dame Rachel de Souza DBE, Children's Commissioner for England.
This guidance is based on the voices of young people giving adults their tips on how to tackle online sexual harrassment.
Things I Wish My Parents Had Known
Children, especially girls, talked about their experiences of sexualised bullying and peer on peer abuse and were calling firmly for more support, with most children saying they want that support to come from their parents or carers. A group of 16–21 year olds were asked to talk about what they think parents should know, and what they should say to their children when talking about sexualised bullying and the pressures of growing up online, and asked them to think back to when they were younger and discuss what their parents and carers did and said that was and was not helpful.