Read Our

Latest News
Montpelier High School celebrates new name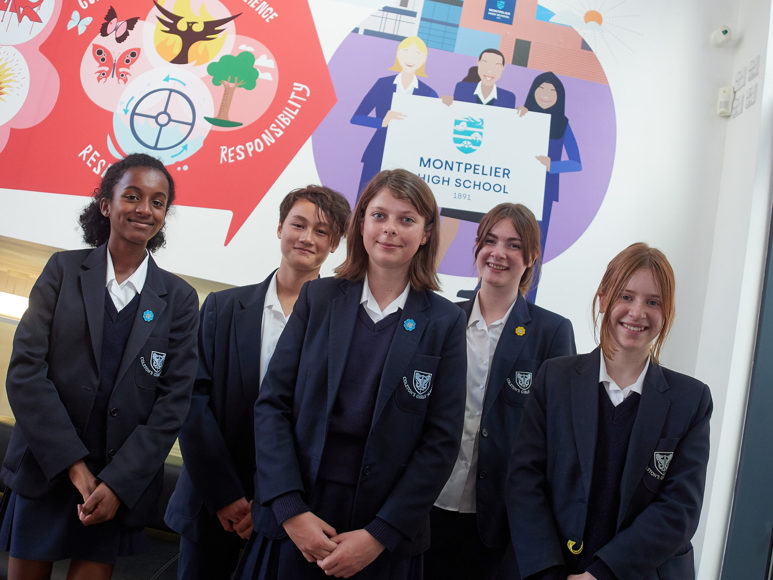 The school community at Montpelier High School celebrated its first day with all students from all year groups in school for the first time since its official rebrand over the summer.
In designing an effective framework for the open consultation, students interviewed their peers and teachers, alumni, Bristol City Council representatives, a local MP, members of the local governing body, Venturers Trust board members and sponsors; and members of the local community.
In attendance were Asher Craig, Deputy Mayor; David Watson OBE, CEO of Venturers Trust and Gillian Camm, former Chair of Governors for the school and the current leader of the Society of Merchant Venturers (SMV). They were joined by Treasurer of SMV, Caroline Duckworth; Chair of SMV's Education Committee, Chris Curling; and Widening Participation and Student Recruitment Officer for the University of Bristol, Alex Thompson.
A group of Montpelier High School students proudly unveiled a striking mural that has transformed the school's high-ceilinged entrance hall into a visual narrative of the name-change journey. Kerry McCullagh thanked local designer Suffia Khanan for designing the school's new emblem and local artist Danny Jenkins for creating such a powerful mural.
Ms McCullagh explained how the name change was the outcome of a well thought-through and inclusive process, where students had learnt the importance of hearing and respecting other people's views, even when they differ from their own.
Sophia Bailey, a Year 12 student who played a key role in the consultation process, also spoke at the event, telling her peers: "We are more than Montpelier High School. We are unique individuals that are part of this amazing journey. We are shaped by the past and we are ready for the future."