Read Our

Latest News
CGS selected as Teaching School Hub for Bristol, North Somerset and Somerset
In an important step forward for the Venturers Trust family of schools, Colston's Girls' School (CGS), soon to be renamed Montpelier High School, has been selected as the Teaching School Hub (TSH) for Bristol and North Somerset; and also for Somerset. Mangotsfield Primary School will be the TSH for South Gloucestershire and B&NES, with Cabot Learning Federation (CLF) providing overarching support to create a strong, strategic collaboration covering the South West region.
The Department for Education (DfE) announced 87 new Teaching School Hubs (TSH) across the country, which will provide every school in England with access to a local centre of excellence for teacher training. A TSH is a group of schools or education experts working in partnership with each other to provide high-quality professional development to teachers and leaders at all stages of their career, as well as helping trainee teachers as they eTSH-announcement-Feb21.jpgnter the workforce.
CLF supported the bid from Venturers Trust and will remain a strategic partner in delivering the requirements of the TSH to the highest standards, including Initial Teacher Training, the Early Career Framework, NPQ for leaders and CPD, as well as working with partners including research schools, maths and English hubs and other specialist providers.
CGS met the stringent criteria outlined by the DfE to become a TSH, but it was the collaborative nature of the Venturers Trust family of schools, already working in partnership with educational centres of excellence across the region, including CLF and the Bristol Primary Teaching School Alliance, that achieved such a strong bid.
David Watson OBE, CEO of Venturers Trust, said: "Building successful partnerships to develop and share best practice is a crucial part of delivering school improvement. The Teaching School Hubs will allow schools to work together more effectively than ever before and this collaborative, values-based approach will benefit all students.
"We know that to achieve the highest standard of teaching, we need to develop outstanding teachers. With CLF and Mangotsfield Primary, our strategic partners within the South West region, we share a moral purpose to develop and provide outstanding Continuing Professional Development (CPD). Across the region, our aim is to drive up standards so that all schools are rated 'Good' as a minimum."
Kerry McCullagh, Principal of CGS, said: "We are thrilled to have been selected by the DfE to lead two Teaching School Hubs, with strategic support from CLF, a trusted and collaborative partner to Venturers Trust over many years. We have the capacity and the capability to deliver the requirements of the Teaching School Hubs to the highest standard.
"We are developing an innovative collaboration across the city and beyond with partners who have a proven track record of delivering substantial teacher and leadership development. This is underpinned by our shared understanding of existing provision and future needs across the region."
David Watson OBE concluded: "This wonderful achievement recognises the ability and ambition of Venturers Trust, but above all, it will benefit every one of the young people in our care as we play a vital role in raising the standard of teaching to achieve significant school improvement throughout the South West."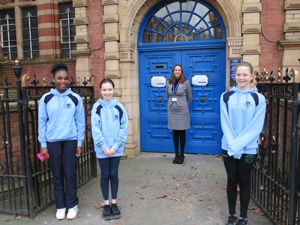 Photo caption: Principal, Kerry McCullagh, with students at CGS.